Sweet Potato and Feta Salad with Honey Roasted Macadamias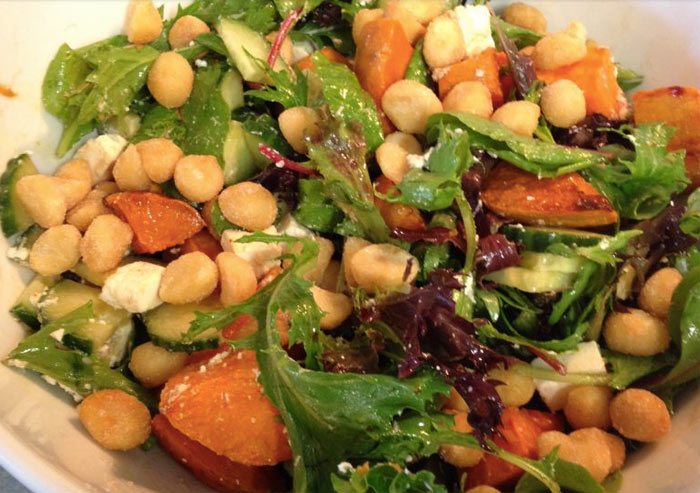 Sweet Potato and Feta Salad with Honey Roasted Macadamias – Serves 2
Salad Ingredients
1 large (500g-600g ) sweet potato
1 Tbsp macadamia oil
100g mixed salad leaves such as spinach, rocket, fancy lettuce
1 Lebanese cucumber
100g Danish feta
100g honey roasted macadamias
Salad Dressing Ingredients
1 tsp balsamic vinegar
3 tsp macadamia oil
Method
Pre-heat oven to 200oC (180oC fan forced).
Peel the sweet potato and cut into 1.5cm cubed pieces. Add 1 tablespoon of macadamia oil and toss to coat all the sweet potato pieces in the oil.
Transfer to a small roasting tray and arrange in a single layer. Roast in the oven for 35-40 minutes or until cooked through, testing a piece with a small knife. Set aside to cool.
In a small bowl mix 1 teaspoon of balsamic vinegar and 3 teaspoons of macadamia oil together and set aside.
In a large salad bowl, add 100g mixed salad leaves such as spinach, rocket and fancy lettuce. Slice the Lebanese cucumber and quarter the slices. Add to the salad leaves.
Cut the feta into 1cm cubes and add to the salad bowl.
Add the cooled roasted sweet potato pieces.
Stir the balsamic and macadamia oil dressing and drizzle over the salad. Lightly toss to combine.
Scatter over the honey roasted macadamias and toss lightly
Serve as a light meal on its own or as an accompaniment to grilled fish or grilled chicken.